The Carousel of Hope & Healing

MAPPING
(Maximizing Authorization Practices and Potential)
A Brain-Based Remote Training in Maximizing Crucial Conversations
A twelve (12) hour small group and individually tailored training delivering the Knowledge and Skills for a new (or struggling) employee or coordinators who may just need a refresher to Engage & Create maximal impact in each conversation they have with a family.
Our Intensive, Small Group, and One on One, Individually Tailored Remote Sessions Provide:
The tools and knowledge to have a successful transition into donation
The knowledge to create a meaningful conversation with the family dealing with normal and unusual concerns
Self & situational confidence in speaking with a family regarding the opportunity to donate
Hands-on 'real life' contact with two experts with a combined 50 year's experience in hospitals
---
Who Will Find this Useful?
This program is beneficial to everyone from new hires, coordinators that need a refresher, to coordinators that have performance problems and may need a new focus in their skill set
---
Program Outline:
1. Overview on approaching families. Review of basic framework (Introduction, Condolences, Bond/Building Trust, Huddle Questions, Family Understanding, BD/Patients Condition (DCD) and guidelines for a family approach (This will differ based on the type of coordinator we are training. For example, Transplant coordinator, Family Services Coordinator, Donation Resource Coordinator (Call Center Staff)
Can accommodate up to 2-3 people if they have same position.
We provide Carousel of Hope and Healing Quick Reference Guide for memory retention
Session Conducted in a 2 hour block
2. Provide skills to transition and appropriate language for an Authorization or Notification (First Person/Donor designation). Review examples of the different types of approach and trainees listen to how this sounds. Review and Practice full Authorization and Notification approaches.
Can accommodate 2-3 people if they have the same position
We provide approach guidelines for Authorizations and Notifications
Session conducted in a 2 hour block
3. Provide skills and knowledge to handle the must mentions which include: Building the transition utilizing contextual rapport (discussing age, medical history, and drug use). Dispelling the most common myths and misconceptions. Bringing up important concepts such as direct donation, Medical Examiner. Using open ended questions. Discussing tissue donation in the most effective and sensitive manner possible with the family.
Can accommodate 2-3 people.
Will provide list of must mentions
Session conducted in a 2 hour block
4. How to establish Subconscious rapport and Learning styles of Decision-makers
Session conducted in a 2 hour block
5. Mind Reading is Mis Reading — asking deeper questions. Questioning strategies to understand the difference between what the family is saying. Cutting from the surface to the center in a few brief questions.
Session conducted in a 2 hour block
6. Self Care for Those Who Care — this session delivers concrete, quickly applicable brain-based skills to reset states of focus, calm, and the ability to recover from the experience of trauma
7. One on one approaching with instructor and new hire. Here the new hire will pull all the knowledge, skills, and practices together to formulate an approach with a family. They will be able to handle authorization and notifications (donor designations). They also will be able to meaningfully transition into donation, be able to respond to objections, and will be able to keep conversation moving forward in a positive direction.
One on one
Session conducted in a 2 hour block
---
INVESTMENT:
$1,680 per person
Quantity Discount: $1,500 per person for groups of 3.
Also, larger group, more in-depth training is offered in a 3 day, on-site format.
---
Find Out More
Contact Eric Lanphear to discuss the training further:

You can also call Eric on 216-219-7697.
---
Download Our Flier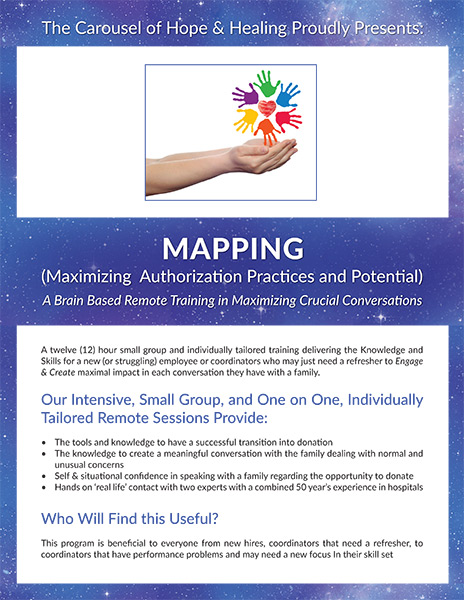 ---